08sep(sep 8)9:0010(sep 10)19:00THE 6TH CONGRESS OF THE ROMANIAN RHINOLOGIC SOCIETY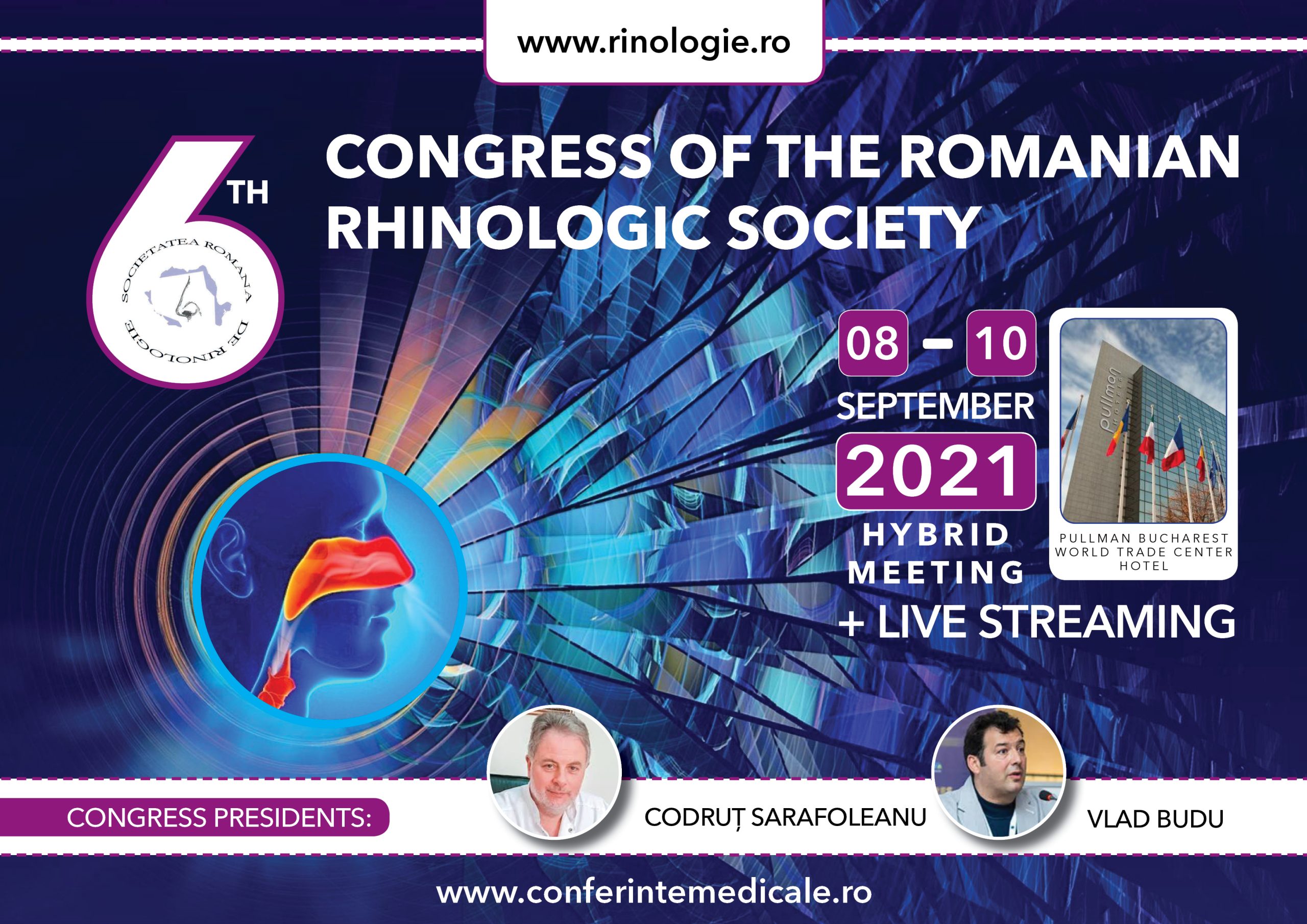 Event Details

THE 6TH CONGRESS OF THE ROMANIAN RHINOLOGIC SOCIETY
08th – 10th of September 2021, Pullman Bucharest World Trade Center Hotel
HYBRID MEETING and LIVE STREAMING
Congress Presidents:
Professor CODRUT SARAFOLEANU, MD, PhD
Lecturer VLAD BUDU, MD, PhD
Dear colleagues and partners,
The Rhinology project continues with your help and despite the uncertainty due to the national and global pandemic context, it is the year of a new Congress of the Romanian Rhinologic Society.
Thanking you for the constant interest shown in the professional endeavors of our Society, we want to continue our scientific events and meet you again with all colleagues and friends of our association.
The 6th Congress of the Romanian Rhinologic Society is intended to be a scientific event to be held as you already know from previous editions.
We propose a conference under the sign of interactivity and exchange of ideas, in which all those interested can present their point of views, clinical observations, special cases and results of clinical or fundamental research.
Regardless of the hybrid format, we hope to meet healthy to discuss topical issues and interests in our specialty or related specialties.
 We are looking forward to seeing you!
Codruț Sarafoleanu & Vlad Budu
Presidents
Codruț Sarafoleanu
Vlad Budu
Organizing committee
Amalia Neagu
Gabriela Musat
Lucia Radu
Elena Patrascu
Alina Anghel
Ionut Tanase
Daniel Lupoi
Mihai Preda
Raluca Enache
Silviu Crac
Cristina Maria Goanta
Alexandru Panfiloiu
Romanian Scientific Committee
| | | |
| --- | --- | --- |
| Codrut Sarafoleanu | Vlad Budu | Daniela Vranceanu |
| Adriana Neagos | Dan Mihail Cobzeanu | Iuliu Catana |
| Gheorghe Muhlfay | Gheorghe Iovanescu | Lucian Lapusneanu |
| Ion Anghel | Dan Cristian Gheorghe | Daniel Lupoi |
| Marioara Poenaru | Elena Ionita | Camelia Berghea |
| Serban Bertesteanu | Magdalena Chirila | Luminita Radulescu |
| Dragos Palade | Florin Anghelina | Rodica Muresan |
| Victor Vlad Costan | Alma Maniu | Emilia Diaconu |
| Claudia Ionesi | Raluca Enache | Gabriela Musat |
| Cristian Martu | Roxana Nemes | Nicolae Balica |
| Mihai Dumitru | Madalina Georgescu | Mihaela Mitroi |
International Scientific Committee
| | | |
| --- | --- | --- |
| Jean Askenazy – Israel | Desiderio Passali – Italia | Prepageran Narayanan – Malaezia |
| Zsolt Bella – Ungaria | Luisa Belussi – Italia | Mario Milkov – Bulgaria |
| Dan Fliss – Israel | Giulio Cesare Passali – Italia | Alexandru Sandul – Moldova |
| Cemal Cingi – Turcia | Marco Piemonte – Italia | Lucia Gariuc – Moldova |
| Ioannis Konstantinidis – Grecia | Mario Rigante – Italia | Andrei Bajureanu – Moldova |
| Timoleon Terzis – Grecia | Philippe Eloy – Belgia | Eduard Cernolev – Moldova |
| Dilyana Vicheva – Bulgaria | Michelle Cassano – Italia | |
FINAL PROGRAMME
ABSTRACT BOOK
Free Papers 1
Moderators: Florin Anghelina, Cristian Martu
Lucian Lapusneanu – Woakes' syndrome – Case report
Mădălina-Pușa Dună – Remission and relapse in granulomatosis with polyangiitis in a young women
Nurullah Türe – Non-Allergic Rhinitis in Children
Carmen-Aurelia Mogoanta – Naso-sinusal plasmocytoma – the surprise of histopathological examination
Elena Pătrașcu – COVID-19-related smell disorders – personal experience
Carmen Badea – Misdiagnosed cavernous sinus thrombosis due to sphenoid sinusitis
Eloy Philippe – Our experience with inverted papilloma: about 61 patients.
Cristian Mârțu – Skeletal and functional changes associated with forms of complicated sinusitis
Free Papers 2
Moderators: Magdalena Chirila, Adriana Neagos
Cernei Vadim – Chronic hemirinosinusitis suppurated in exacerbation, complicated by cellulite retrobulbar and frontal intracerebral abscess, post-COVID. Clinical case.
Neagu Mihaela Cristina – How covid-19 brought olfactory disorder to central stage
Daniela Cernev – Maxillary osteomyelitis caused by SARS COV-2
Elena Grițco – Epistaxis post alcoholic poisoning
Eloy Philippe – Small maxillary sinus: different clinical entities but same surgical hazard
Shirley Tarabichi – Optimal approach of hereditary hemorrhagic telangiectasia
Alina Anghel – Neglected fronto-ethmoidal mucocele-case report
Bejenariu Andreea – Difficulties in the diagnosis and treatment of sinonasal tumors
Nicoleta Dumitrescu – Patient-centric approach in sleep apnoea syndrome management
Free Papers 3
Moderators: Gheorghe Iovanescu, Amalia Neagu
Mihai Preda – Therapeutic challenges in the diagnosis and treatment of intrasinusal foreign bodies
Gheorghe Eduard Andrei – Maxillary squamous cell carcinoma metacron with rhinopharynx cancer (clinical case presentation)
Alexandra Ileana Sanda – Wegener's granulomatosis – ENT implications and complications – case report
Ioana Preoteasa – Case presentation: CSF leak – 30 years after transsphenoidal approach of the sellar region after a nasopharyngeal swab
Milea Alex Iulian – Challenges in the diagnosis and treatment of small cell sarcoma in a 27-year old female
Andrei Selman – Inverted papiloma – clinical implications
Lucian Lapusneanu – External auditory canal squamos carcinoma – Case report
Rodica Urs – Preservation septoplasty in rhinoplasty with deviated noses
Calinciuc Andra – Traditional vs. endoscopic approaches for septoplasty techniques
ABSTRACT SUBMISSION DEADLINE (in Romanian and English): up to July 20th, 2021
ABSTRACT SUBMISSION FORM (click here)
Instructions for drafting the summary
– may not contain more than 500 words;
– will be sent in the language of Romanian and English
– text is Times New Roman 12, without paragraph indents, a paragraph or other; will not be formatted
– will be written with diacritics
Summary should include:
– title, written in capital letters followed by one blank row; the title cannot be longer than 250 characters;
– authors ' names written on one line, respecting the order: first name initial (for men) or the last name (in the case of women) followed by name (do not use professional/academic titles); after the list of authors will leave a row;
– affiliation (Department, institution, city, country), the first author and co-authors;
– the text itself must comply with known structure: introduction, material and methods, results, conclusion (avoid the wording "the results will be presented"); the text must contain sufficient details to be able to justify the conclusion;
– we do not support graphics and tables in summary;
– all the abbreviations will be explained at first use in the text.
Digital Posters
Authors whose abstracts have been selected for a digital poster presentation are invited to prepare a digital poster, with the option to add a video file to present the poster (max. 4 minutes).
The poster format is LANDSCAPE, as the majority of the congress participants will participate in the virtual congress via their desktop computer or laptop. Poster template – landscape
Summary and posters has to be sent at the following e-mail addresses:
[email protected] , [email protected]
Language:
The official Congress languages will be Romanian and English.
more
Time

8 (Wednesday) 9:00 - 10 (Friday) 19:00
Location

Pullman Bucharest World Trade Center
Organizer
Societatea Româna de Rinologie